This woman is a Virtual Public Artist.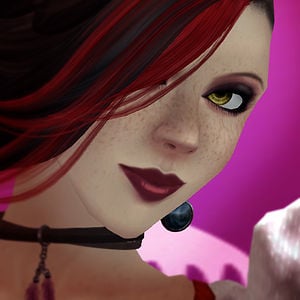 I feel like that sounds different. Vanessa Blaylock is an artist that works through her avatar in a virtual world. As another student noted, "express their identity, explore their culture, and demand their civil rights" – @dominique She has works and events in the virtual world.
N is for Net / Work from Vanessa Blaylock on Vimeo.
Avatar Life in the 26 letters of the Alphabet
First 26 days of April 2014
http://Alphabet.VanessaBlaylock.com
N IS FOR NET / WORK
Collaborative performance / installation by Betty Tureaud & Vaneeesa Blaylock. Installation at Gallery Xue / Kandahar facilitated by Xue Faith & Trill Zapatero. Wardrobe by Kai Heideman. Hair by Carina Larsen. Soundtrack by DJ Blue. Intro spoken word by Colin Mulcher. Full credits at http://irez.me/2012/04/19/vb34-machinima/
There's a few different ways to look at her work. Of course She is doing good. It's kind of hard for me to make an opinion about her work, because I really like to try to connect to the artists that I study. I do however really like a social movement online. I feel like the internet is a completely different world/planet itself and should be treated as such. Some would think that spending this much time for a social movement online is a waste of in real life time when you could have the social movement in real life. This is true but what if you can't make it across the country to support your ideas? Online you can accomplish things without the travel or safety aspect of real life.
and there's always the chance that it will spill over into real life. I personally don't have a virtual avatar, but I'm writing about her, which means she has made her projects effect real life.
She is working in the perfect medium. She's pushing a social movement in a world that promotes self expression.